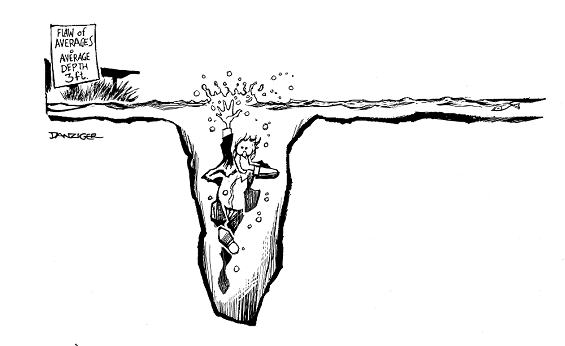 Source: The Flaw of Averages by Sam L. Savage, Hoboken, NJ: John Wiley & Sons, 2009.

Why do so many projects run over budget and behind schedule? Why do financial plans fail? The reason in many cases is what Stanford University professor Sam Savages calls the flaw of averages. The flaw of averages is using a single number (usually an average) in place of an uncertain quality.
The flaw of averages is humorously depicted in the carton above in which a statistician carries out a plan to walk to cross a river based on knowing that the average depth of the water is three feet, but not considering how much variation there could be in the river's depth.
A classic case of the flaw of averages is using a financial calculator to decide how much to save each year to reach a financial goal. For example, suppose that you estimate that you need to accumulate $1,000,000 to retire comfortably in 40 years. You can calculate how much you need to save each year. To calculate this, you need to provide the calculator with a rate of return. Based on historical data, you come up with a rate of return of 6%. You enter the following parameters into the calculator: