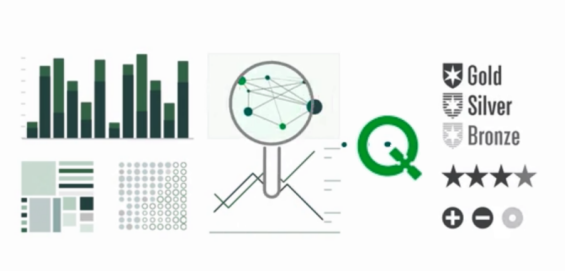 Starting this week, Canadian investors will be able to search for funds based on the Morningstar Quantitative Rating System, which uses a machine-learning model to rate funds.
Using an approach rooted in artificial intelligence, Morningstar's machine-learning model incorporates the decision-making processes of manager research analysts, their past rating decisions and the data used to support those decisions. This process generates the Quantitative Rating, which is comparable to the rating a Morningstar analyst might assign if an analyst covered the fund.
The scale for the Quantitative Rating is the same as for Analyst Ratings: Gold, Silver, Bronze, Neutral and Negative. Funds that receive the Quantitative Rating will receive ratings of Positive, Neutral or Negative for each of the five pillars—Parent, People, Performance, Price and Process. Funds will either receive a Morningstar Analyst Rating or a Quantitative Rating, but not both.
Analyst ratings provide an analyst's forward-looking assessment of a fund's ability to outperform its peer group or a relevant benchmark on a risk-adjusted basis over a full market cycle.
The funds in the list below not only represent our highest recommendation based on the quantitative rating, but they have also been top performers over the long term. We screened the entire universe of mutual funds in Canada to pick the funds that had the highest annualized total returns over a 10-year period. We then sifted through those to pick the top 10 gold-rated funds.
The results were surprising.
Nine of the top 10 were either global equity or U.S. equity funds. The best performing Canadian focused fund is Fidelity Special Situations Series F, which comes in at number 9 on the list, with a total annualized 10-year return of 14.7%. The fund holds 48.1% of its assets in Canadian equity and 41.8% in U.S. equity. Managed by Mark Schmehl, the fund's top sectors are technology, consumer cyclical and basic materials.
U.S. stocks have greatly outpaced their Canadian counterparts over the past decade. The NASDAQ 100 index and S&P 500 Index have posted total annualized 10-year returns of 19.3% and 13.4%, respectively, when converted to Canadian dollars, while the S&P/TSX Composite Index had a total return of 5.4% for the same period (as of Sept. 14).
The top gold-rated fund is TD Entertainment & Communication – F. Managed by Paul Greene of T Rowe Price, the fund holds 80% of its portfolio in U.S. equity, and 18% in international equity. It has a total annualized 10-year return of 17.8%.
Name
M* Quant Rating
Total Ret 10 Yr
Fund Category

TD Entertainment & Comm – F

Gold

17.8

Global Equity

CIBC Nasdaq Index

Gold

17.2

U.S. Equity

Mawer Global Small Cap A

Gold

16.1

Global Small/Mid Cap Equity

TD US Small-Cap Equity – F

Gold

15.7

U.S. Small/Mid Cap Equity

Dynamic Power American Growth Ser F

Gold

15.7

U.S. Equity

TD US Blue Chip Equity – F

Gold

15.5

U.S. Equity

TD US Mid-Cap Growth – F

Gold

15.3

U.S. Small/Mid Cap Equity

Fidelity Small Cap America Sr F

Gold

14.8

U.S. Small/Mid Cap Equity

Fidelity Special Situations Series F

Gold

14.7

Canadian Focused Equity

Mackenzie U.S. Mid Cap Growth Cl M

Gold

13.9

U.S. Small/Mid Cap Equity

Data as of Aug. 31, 2018. Source: Morningstar