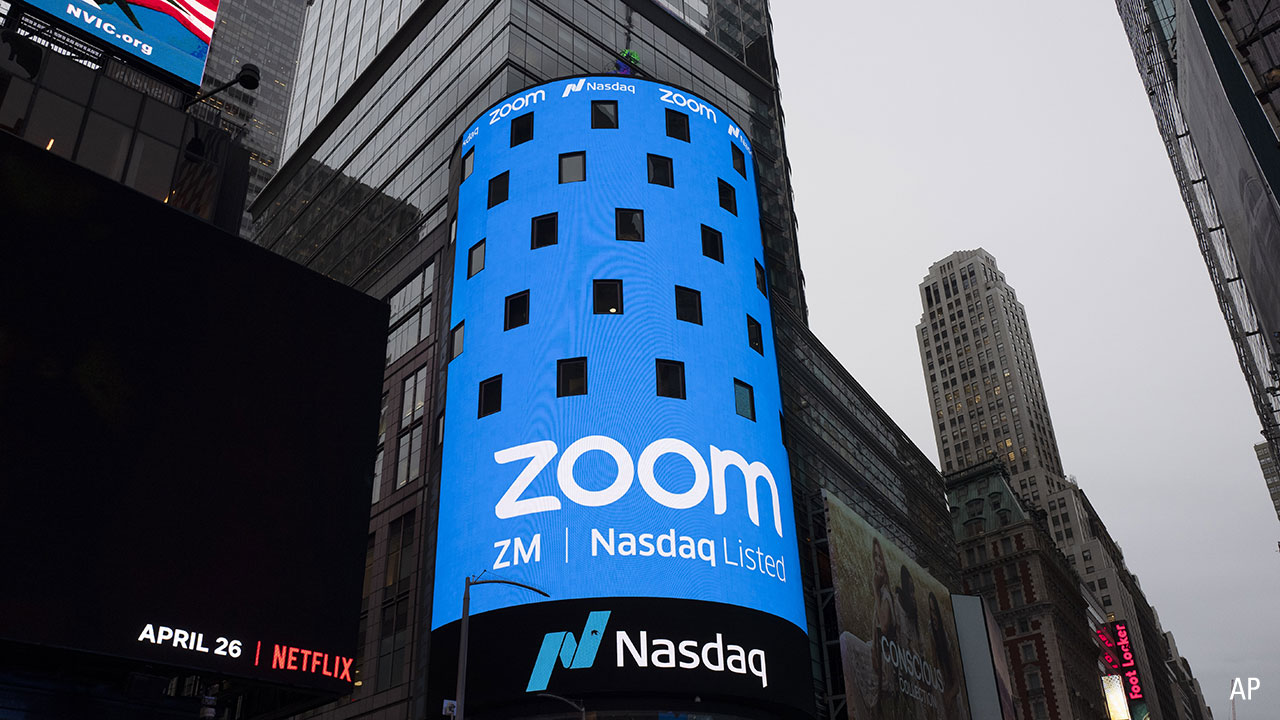 In this increasingly Orwellian world of social distancing and working from home, videoconferencing providers have enjoyed a surge in user numbers.
The coronavirus is forcing workers, students and the wider population to interact more online and for that they're looking to a few companies in particular: notably, Zoom Video Communications Inc (ZM); Microsoft (MSFT), through its Teams application; and Slack (WORK).
Since its listing in April last year, Zoom has risen almost 100 per cent. It has also defied the wider coronavirus sell-off. Since 20 February, its share price has risen by about 15 per cent versus a 23 per cent fall for the broader market.
But not all are convinced of its potential, including Morningstar analyst Dan Romanoff, who cites the free-user model, stiff competition and embarrassing security breaches as reasons to be wary.
"We think the rise in Zoom shares is unwarranted, and our discounted cash flow-derived fair value estimate remains unchanged at US$62," says Romanoff. Zoom fell more than 4 per cent overnight and is trading at US$122.94.
"Users have spiked from 10 million in December to 200 million in March. We think the company's funnel is increasing, as so many users are having a trial by fire on Zoom's video calling application.
"However, we are sceptical that Zoom will be able to convert enough of these free users within a reasonable time frame to justify the current valuation."
Nor is Romanoff convinced that in a post-covid world we'll remain hooked up to Zoom.
"In fact, we see consumer and corporate behaviour normalising, just as it did after September 11, 2001, and after the financial crisis, rather than shifting to a Zoom-only world."
Zoom's prank caller problem
Zoom's 20-fold surge in daily members since the end of last year has also exposed privacy risks.
This week Zoom chief executive Eric Yuan was forced into damage control following widespread reports of trolls sabotaging meetings by interjecting porn.
Still, there have been some impressive numbers. Zoom's average user numbers in March were nearly three times that of Teams, according to research firm Apptopia.
And since the public-health crisis unfolded, Zoom has become the most downloaded free app on Apple's iOS App Store, ahead of TikTok, DoorDash, and Disney+, Bloomberg says.
In the US, Zoom's daily user volumes rose to a record 4.84 million last week as millions of school children switched to virtual learning programs and companies asked staff to work from home to contain the outbreak.
But the security scare has also robbed it of some high-profile users. Elon Musk has banned Tesla and SpaceX from using it. And the 1.1 million-strong network of New York City schools has also hung up.
User doesn't pay model
Video conferencing platforms offer video and audio calls, one-to-one meetings, group conferencing, collaboration and productivity apps, and a (usually) secure interface.
Slack, Teams and Zoom used a "freemium" model: a free version with limited features and tiered pricing for paid ones.
Despite increasing his fair value estimate, Romanoff sees Zoom as 107 per cent overvalued and says it warrants no moat and has a high uncertainty rating.
Unlike other young companies, Zoom is profitable, has a strong balance sheet and is tipped for growth. But, as Romanoff notes, management concedes the jump in usage from free users during the pandemic has produced no significant boost to revenue.
"Zoom is a recognised market leader in meeting software and is disrupting and expanding the US$43 billion ($70 billion) video conferencing market with its ease of use and superior user experience," Romanoff says.
"We think Zoom has product and technology advantages, but we do not believe they're enough for a moat at this stage in its life cycle."
He sees aggressive growth continuing in the coming years and models total revenue growth of 48 per cent in fiscal 2021, decelerating to 23 per cent in fiscal 2025. This represents a five-year compound annual growth rate of 30 per cent.
Getting more users to the meeting
Zoom Meetings is the core platform, which includes individual and group video conferencing, screen sharing, audio conferencing, searchable and archived transcripts, chat, and file sharing.
Pricing tiers are based on a per user per month basis and include Basic (free), Pro (US$15), Business (US$20), and Enterprise for US$20 (more features with a volume discount).
Zoom's focus is squarely on adding as many users as possible. This starts with generating buzz and familiarity with free users, while the direct salesforce sells to enterprise accounts.
In this sense, it relies on viral adoption whereby an increase in free users eventually leads to a customer signing on to access extra features. According to management, 55 per cent of customers started with the free offering before converting to the paid version.
The company has also expanded its portfolio with the addition of Zoom Phone—the company's cloud-based phone system that would serve as a replacement for a traditional private phone system. This is available only as an add-on to Zoom Meetings, with pricing starting at US$10 per user per month.
Valuation risks
Romanoff says that while Zoom is expected to produce relatively higher revenue growth, the higher absolute valuation offers less room for missteps and therefore carries greater inherent risks.
"At high valuation levels, companies can often become momentum stocks that are punished severely if they do not deliver against expectations, which are regularly higher than consensus."
And because of its freemium model revenue is concentrated among the largest customers and there is also higher churn among smaller customers.
"We think this could be exacerbated in Zoom's case, as the company operates a freemium model, where the number of free users far outpaces the number of paid users.
"Management does not disclose churn statistics, but we believe the nature of the model would dictate higher churn than fully paid enterprise software models."
Zoom was actually profitable in fiscal 2019, and Romanoff expects this to continue, which can't always be said for many young software companies.
Competitors dial in
And then there is the risk of competition. Cisco (CSCO), Microsoft (MSFT), Google (GOOGL), LogMeIn (9LG) – the list is long and includes a wide variety of smaller niche solutions.
"Larger companies, such as Cisco and Microsoft, can bundle a number of solutions together with video conferencing, and like Zoom also offer a free version of their products."
And as the company expands Zoom Phone, Romanoff expects increased competition from legacy and modern cloud-based private phone providers, such as Avaya, RingCentral, and 8x8.