Wednesday belonged to DoorDash (DASH).
The US food delivery service's stock skyrocketed in its market debut, closing at $189.51 – well ahead of the $102 initial public offering (IPO) price the company had set on Tuesday night.
Clearly, investors continue to pay top dollar for leading tech IPOs – even for companies like DoorDash that aren't yet profitable.
"In our view, DoorDash's successful IPO validates venture backing of early-stage mobility startups," says Asad Hussain, lead mobility analyst at PitchBook, a Morningstar company.
"We expect VC funding toward mobility to increase as investors deploy capital towards sectors with pandemic-induced tailwinds.
"Novel technologies such as delivery platforms, autonomous/electric vehicles, and micromobility have made it clear that startups will play a key role in shepherding in the future of transportation."
DASH | Stock Price, 1 Day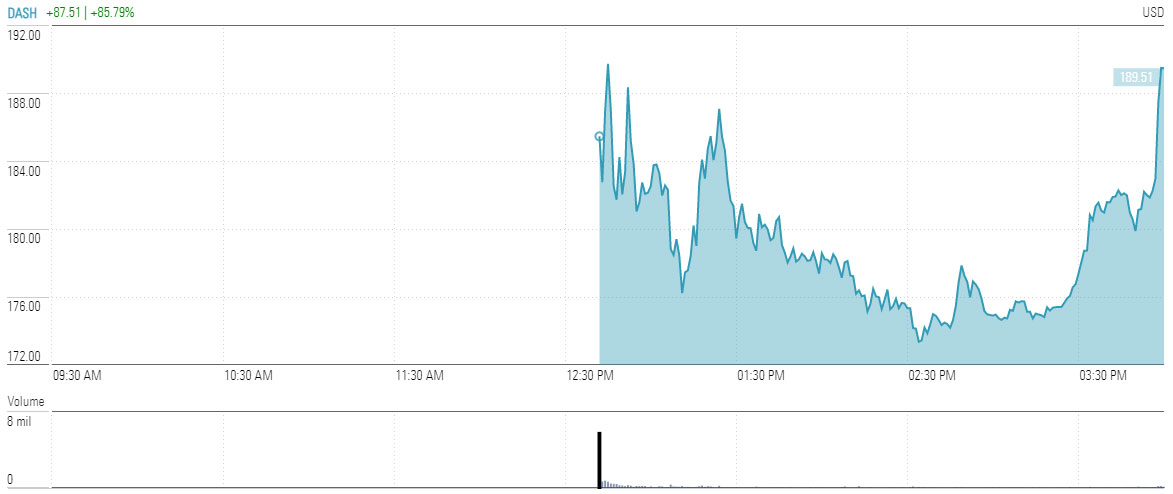 Source: Morningstar
Hussain also notes that there's plenty to like about DoorDash.
"DoorDash is growing at a blistering pace of 200 per cent-plus, well ahead of its competitors thanks to its focus on higher-ticket, fast-growing suburban markets, and knocking on the door of sustained profitability with a 10 per cent adjusted EBITDA margin delivered in the third quarter," he explains.
"We believe there is a long runway of growth ahead for DoorDash and expect consumers to continue to favor food delivery even beyond the pandemic."
However, given the stock's remarkable one-day run-up, this story might be best watched from the sidelines for now.