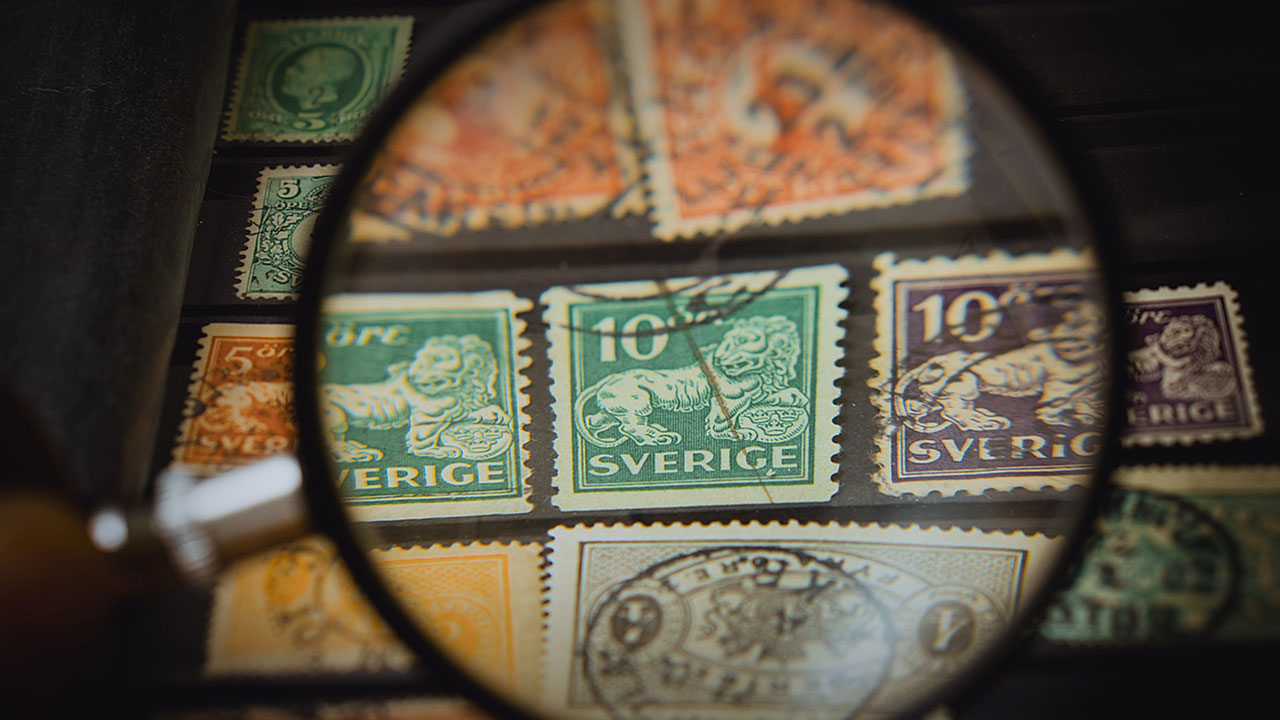 The media loves the little-guy-made-good stories, where the comic book bought by a kid for a few cents is now worth thousands of dollars. If you had the foresight to buy and hold a 1950 VW Kombi with the prized 23 windows, you have not only enjoyed 70 years of driving (and repairing) but it may now fetch half a million dollars. A pair of Michael Jordan game-worn Nike sneakers recently sold for a sneaker record of US$615,000, while Star Wars action figures produced before 1985 can fetch up to US$10,000.
These examples of how a few made a lot create an impression that almost anything old and 'collectible' will be bought by someone if the holder waits long enough.
But for every sought-after basketball card, there is a 'collector' Olympic pin nobody wants. For every vintage Super Mario video game, there is a 'collectible' photo of Shane Warne taking his 300th test wicket sitting idly on eBay. And don't think your collection of old first-day covers in a stamp album in the attic is a part of your retirement income strategy. With a few exceptions, there is little demand for most ordinary stamp collections as a check on eBay or Gumtree will confirm.
And then there is my once-valuable and loved mint collection of phonecards which only one person in Australia really wants, and that's not me. More on that later.
Yes, There Are Many Success Stories
In all bubbles and manias, popularity initially creates its own momentum. Buyers beget buyers, especially in an age of social media where minor celebrities can have a million followers. But they quickly move on, and so do their fans.
The reason stamp collecting has lost its lustre is that few people send stamped letters. Where once a letter covered in exotic stamps from an uncle or auntie living overseas drove enthusiasm for the hobby, now an email or text is received to celebrate a birthday. Most schools had stamp-collecting clubs which created a buzz, but it's now more likely to be a video game.
Collecting items goes in and out of fashion, and the secret to making money is to stay ahead of the wide adoption and not get caught when the excitement dies down. Two examples of products that have experienced a renaissance are Pokémon cards and Lego.
Pokémon cards from the late 1990s and early 2000s were originally exchanged in schools based on the successful Nintendo video game. It then died, but interest has been revived by leading YouTube influencers taking part in 'unboxings' of sealed cards. During COVID, people have more time to follow these celebrities and jump on the bandwagon. There is also a rumour that Pikachu, a Pokémon character, will be a mascot at the 2021 Tokyo Olympics.
In 2003, the Danish company, Lego, was struggling with massive debts and declining markets when it made a strategic change away from simple bricks for buildings into 'toys-to-life', where action figures relating to movies or games were issued in Lego sets. The most collectible sets are the early Star Wars editions, and an unopened Millennium Falcon from 2007, part of the Ultimate Collector's Series, can now fetch thousands of dollars. Many other Lego classics have also appreciated as part of the overall Lego revival, helped by the television programme, Lego Masters, which is a global hit and a big success in Australia.
Perhaps the most famous of all collectibles, at the point where significance and scarcity meet, is the 1938 Action Comic No. 1, featuring Superman's debut. There are only about 100 surviving copies, and in mint condition, it can fetch over US$3 million. As a sign of its appreciation, sales have been recorded for $US82,000 in 1992, $US150,000 in 1997 and US$2.2 million in 2011.
The Rise and Fall of the Phonecard Frenzy
Not all these stories end well financially, but most can end happily.
Telecom (now Telstra) began issuing phonecards to operate their public pay phones in 1989. This was pre mobile phones and while most people with homes had a landline, pay phones on the street were still popular. Some people could not afford their own phone, while renters did not bother with a connection, and it was common to see queues at pay phones as people waited impatiently for others to finish.
Telecom issued standard, plain phonecards with their simple logo and prepaid values up to $50, but soon realised collectors would be far more interested in editions and series with different themes. Thousands of people started collecting phonecards, used or mint, and it became a lucrative service offered by stamp and coin dealers.
Cards issued in mint packs included sporting heroes, events such as Australia Day and the Grand Prix, state series, and cards issued by companies and organisations – the list was endless. Serious amateur collectors and professional dealers published catalogues of cards and prices, and for a few years, it developed into a serious hobby to rival stamps and coins.
The most prized card pack of all, as shown below in a price list from 1992, was the South Australia mint pack in the state series. I remember buying it for $90 after walking from dealer to dealer looking for a pack. Most had sold out, and the market went crazy, peaking at over $1,250.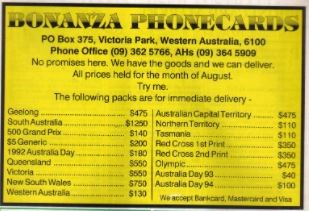 Serious money was being made. Here are the cards in the South Australia pack, with a face value of $44.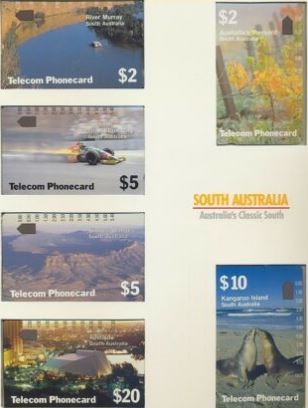 I rarely bought in the secondary market, preferring to acquire almost everything that Telecom issued, sometimes in multiple packs, convinced their value would rise as scarce editions sold out quickly. I did not go into the international phonecard game where the range, demand and supply were infinite. Japan in particular had a massive phonecard bubble.
I arranged my cards into neat folders and categories. Now when I think back, I realise I was in my mid-thirties and it's embarrassing to consider how much time the hobby consumed. I was hooked on the thrill of collecting, of obtaining everything, and the future investment potential. My recollection is that I spent about $3,000 on cards (don't tell my wife) which at one stage had at least doubled in value.
I had a lot of fun and I became an expert in Australian phonecards for a few years. A serious collector issued a monthly newsletter which became compulsory reading.
The technology changed by 1998 and pay phones no longer accepted phonecards. The first 1G mobile phone was introduced by Telecom in 1987 (and retailed for $4,250) although the iPhone was not released until 2007. During the 1990s, mobile phones gradually made their way into more hands, reducing demand for pay phones.
The serious collector market for phonecards collapsed from about 1994, and it never came back. Long before then, I had lost interest, and my collection went into the attic. I'd like to say it was a strategic decision to park them until they increased in value, but with my children showing no interest, the cards went the same way as old mobile phones, dated pairs of glasses or souvenirs from an overseas trip. They sit in a bottom drawer, and for some reason, we cannot bring ourselves to throw them out, and they gather dust as the years roll by.
Discovering My Phonecard Collection Again
In my case, for at least 25 years until a few months ago, and I was not even sure where I had stored them. Then we sold our home of 30 years and started clearing out all the storage spaces. And there was my prized collection, neatly wrapped in plastic bags, as good as the day they were minted.
There was no point moving them to our new place, so what was the best way to deal with them? Sell them, of course.
Telstra (ex Telecom) had stopped buying them back 10 years ago. As I looked through them again, I was reminded how much I had spent. Noting that 1993 dollars were worth twice what they are now, many pristine cards held $50 of stored value. I found some of my favourite cards, once treasured with their beautiful presentation boxes and packages. And there was South Australia, itself once worth $3,000 in today's money.
So I hopped onto eBay and Gumtree to check my riches. I knew they had fallen in value, but I did not realise most were almost worthless. South Australia pack for sale at $20, no bids. Mint cards for $2 and $5. Bags of used cards, the lot for $20. No buyers.
And I had hundreds of cards. There was no way I could be bothered listing them and waiting for a bid, or responding to questions, and then posting them to a buyer (if one existed).
I rang a few stamp dealers who once dealt in phonecards. Each said the same. With few exceptions, there was little demand, they were not worth bothering with, the market has collapsed. So much for my precious.
And then along came John Quick, and the solution was right before my eyes.

Forget the Money, Make Someone Happy
I Googled 'Phonecard collecting' and the name of the President of the Australian Phonecard Collectors Club (APCC) came up. I emailed John, and he promptly replied, saying that while there are still a few motivated people adding to their collections, prices are very low. He already had an extensive collection but would be willing to pay for cards he was missing. He did not know anybody in Sydney or NSW who was looking for the more common mint packs, and he lived in Adelaide. It would hardly be worth mailing my cards to him in the hope he would buy a few.
Then an idea came to me. Later in the year, I would be attending a wedding in Adelaide. How about I take all my phonecards with me and just give them to him. Gratis. John was happy to meet, indeed, pick me up at the airport, and I would show him my cards over dinner at his place.
Come the appointed day, I packed all my cards into the biggest suitcase I could find. I was amazed at the quantity and weight. It came in at 22kg, a smidgen under the weight allowance for the flight.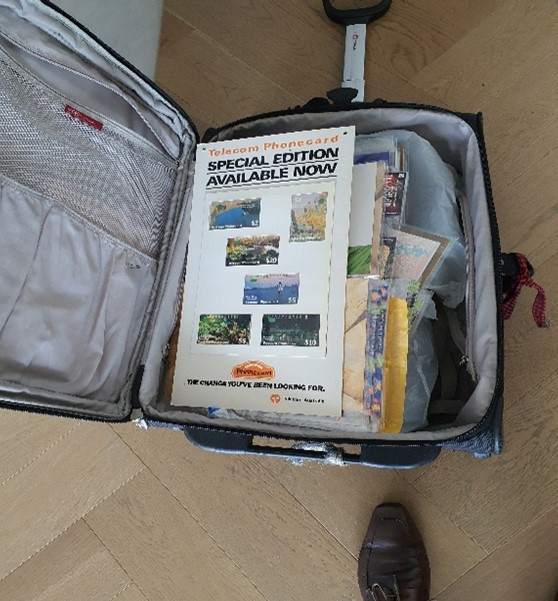 At Adelaide Airport, John arrived in his little blue Suzuki to pick me up. He saw my suitcase and carry-on baggage, and pointing to the case, he said:
"Is that what I think it is?"
"Yes," I replied. "Full of phonecards."
"Oh dear. My wife will kill me."
The case filled his car boot and we drove to his house while we had my first chat about phonecards for a quarter of a century. At his home, his wife greeted me at the door with a friendly smile, until she saw the suitcase.
"Is that what I think it is?" she asked.
I soon learned she had tolerated her husband's collecting for decades while taking little interest in it herself. But they were both mad Port Adelaide AFL supporters, so I pretended I knew what that meant and the ice thawed.
Still, taking out all the phonecards was a shock. I had forgotten how much I had accumulated. We spread them over the dining table, and John was thrilled to see them, as shown below. Like a kid in a lolly shop, I had found the most passionate collector of Australian phonecards in the world.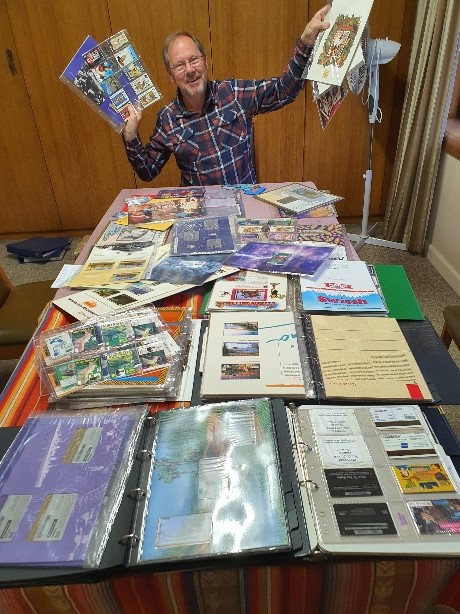 But then a worrying pattern unfolded. He already owned nearly everything I had brought, and in some cases, I had multiple copies of the same item. He started to pick out a few cards, the ones he wanted, such as hard-to-find cards from a Bowral Tulip Festival. Those he absolutely loved, but had he misunderstood the reason for my trip?
"John, you do realise that I'm giving you all this, don't you? I didn't lug 22kg of phonecards from Sydney to Adelaide just so you could pick out a couple."
His wife looked skeptical. Was she wondering if this was a setup of some type? Did he even want them? I reassured them there was no catch, they could keep the cards with a face value of thousands of dollars for free, to give me the satisfaction of knowing they had gone to a good home.
And so we enjoyed dinner, talked cards and football and he explained how once the APCC served over 300 members doing a thriving trade and holding regular meetings and auctions. Now there were maybe a dozen people seriously involved, including a few with massive collections. Websites are maintained with extensive historical records but it's not enough to generate new interest.
Satisfaction all round, I left everything behind and headed for my hotel.
Over the next few days, John emailed me each day on how much he was enjoying going through my cards. He wrote:
"Sorted through your cards and have put them into order of issue. Am still wrapped to have filled the gap with the Bowral Tulip Festival cards. Have sold a few of your cards to a collector friend of mine. Am sussing out some of the APCC members to see if anybody might be interested in me auctioning off some of your packs early next year. Could you please send me your banking details and any monies I am able to raise. I will happily send you the funds. I'm just so happy that you were prepared to go to so much trouble for me to be given first look at what you had available. As I have said previously, it was a real pleasure meeting you."
I don't want the money, it was a great result as is.
Are There Any Lessons About Collecting?
Financially, I lost a few thousand dollars, but I enjoyed the thrill of the chase in keeping my collection complete and studying the market. So the first lesson must be that you need to enjoy the actual collecting and not consider it solely as an investment.
Second, however, if it is an investment, watch for signs of interest waning and be prepared to sell, even if you miss the peak. There's a good chance that collectors will move on to another exciting trend, especially when there is little rationale for follow-up demand. Phonecards died because the technology was replaced and people stopped using them. The ability to generate new demand comes with the ongoing Star Wars franchise, the nostalgia for old cars like the Kombi, or the legendary status of Michael Jordan. Stamps are facing the same ignominy as phonecards, although they have 200 years of history to support the hobby.
I ask myself if I collected simply for the pleasure itself or if there was always a money incentive. If I'm honest, there was a financial motivation, and part of my enjoyment was the rapidly-rising value. I made the mistake of assuming the hobby would continue to grow. John is different. He loves the cards and collecting for what they are, and his forensic attention to cataloguing his cards has become a major part of his retirement. He showed me his database and spreadsheets, part of which is shown below, and he clearly lives by a higher calling than my motivations.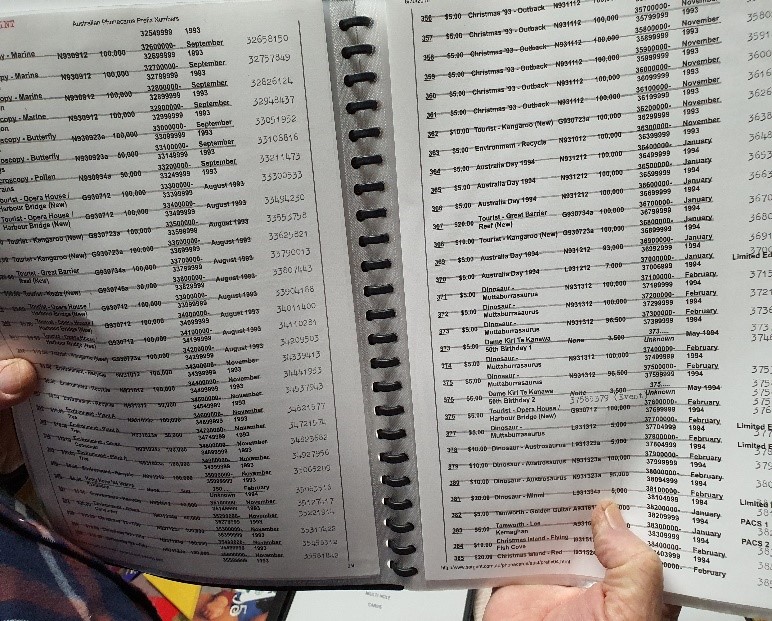 And the final lesson is that there is always someone out there who will love your collection more than you do, even if they do not need to pay for it. Find them and make them happy, before Pokémon Go becomes Pokémon Gone.