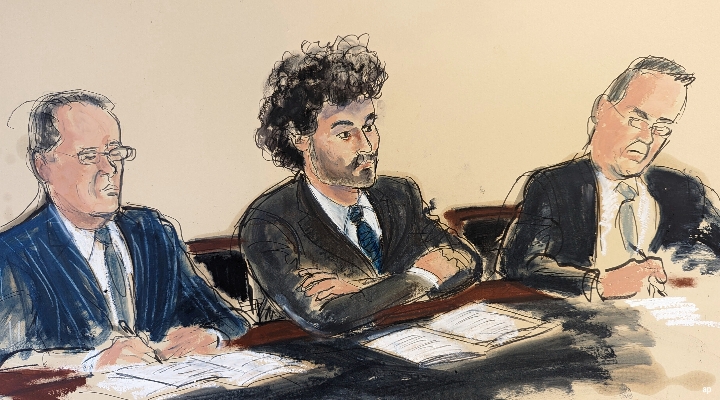 As late as May last year, Sam Bankman-Fried was considered something of a hero. But by early November 2022 the apparent king of crypto had been dethroned.
The first news many people heard of issues at FTX – the crypto exchange founded and led by Bankman-Fried – was on Twitter, where on November 8 he posted apparently reassuring statements alerting worried crypto investors to a takeover by rival platform Binance.
But within hours even that plan was in tatters. Binance quickly pulled out of the deal following initial due diligence, and, as FTX's solvency unravelled, Bankman-Fried said it did not have sufficient funds to meet overwhelming demand for withdrawals.
Now facing the music, Bankman-Fried was advised to apply for Chapter 11 bankruptcy in the US, a move he later said he regretted in an explosive late night conversation over direct message with a journalist.
Subsequent statements on November 17 from John Ray III, the recovery lawyer charged with sifting through FTX's liabilities to recover its customers' savings have raised questions about the way that FTX was run, as well as its relationship with Alameda Research, the quantitative crypto trading firm founded by Bankman-Fried in 2017.
At the heart of all of this is the topic of governance. How well run was FTX, and was there wrongdoing in the way that customer funds were used? Moreover, was Bankman-Fried complicit in the disaster? A criminal trial will now decide the answers to those questions, but in the meantime our summary of the governance issues at stake in the courtroom is below.
Let's start with the criminal accusations.
Wire Fraud
Among the most significant of the criminal charges levelled at Bankman-Fried by the Department of Justice is that of wire fraud. Wire fraud occurs when fraudulent activity takes place on electronic platforms. That includes phishing scams, telemarketing traps or digital identity theft. In this case, though, it is alleged Bankman-Fried knowingly diverted vast sums of FTX customer money to Alameda Research over a period of several years. Some reports suggest FTX's internal coding was changed to facilitate this. In order to be found guilty, a court must establish that "the defendant voluntarily and intentionally devised or participated in a scheme to defraud another out of money" and that "the defendant did so with the intent to defraud". It must also prove Bankman-Fried could "reasonably foresee" wire communication would be used in the process.
Securities Fraud
Bankman-Fried is also accused of securities fraud, which would involve misrepresenting the information used by investors to make decisions. This is a very serious allegation. FTX had some heavyweight financial backers, some of whom have lost substantial amounts of money. According to the Securities & Exchange Commission (SEC), since "at least May 2019", FTX had raised more than $1.8 billion dollars from equity investors. "In his representations to investors, Bankman-Fried promoted FTX as a safe, responsible crypto asset trading platform, specifically touting FTX's sophisticated, automated risk measures to protect customer assets," the SEC says. The court must now decide whether Bankman-Fried lied in a bid to secure financial backing for FTX.
Money Laundering
It's lost on nobody that this case involves staggering sums of money, but not all of it was in crypto or other investments. It's alleged some of the money FTX is accused of misappropriating was laundered, or "cleaned". For one, Bankman-Fried has been linked to a property portfolio comprising as many as 19 different residences worth hundreds of millions of dollars. Among them were luxury apartments used as residences for FTX personnel. A separate property, worth $16.4 million, has Bankman-Fried's parents on the deeds. A court must now decide if allegedly misappropriated monies were used to fund the portfolio.
Some Broader Issues…
Aside from criminal charges, FTX's collapse raises questions about the day-to-day running of customer-facing trading platforms. Here are some of the issues highlighted by the case.
The Basics
Within days of taking over the reins of FTX, CEO John Ray III set everyone's tongues wagging by declaring his early findings from inside the company. It wasn't good. "Never in my career have I seen such a complete failure of corporate controls and such a complete absence of trustworthy financial information as occurred here," Ray said. "From compromised systems integrity and faulty regulatory oversight abroad, to the concentration of control in the hands of a very small group of inexperienced, unsophisticated and potentially compromised individuals, this situation is unprecedented."
Some of the problems raised in Ray's statement include the lack of formal board meetings, the lack of formal lists of bank accounts and account signatories, and the lack of documentation for key transactions. More information is likely to be forthcoming from Ray during the trial, and it is unlikely to be flattering.
Stewardship
Stewardship denotes the responsibility companies have to look after things. That could be a particular agenda, like climate investing, but in this case it's very clear the key issue is customer money, and who supervises it. In the case of FTX, things went very wrong.
Interestingly enough, this is the second time in 12 months stewardship has been a serious talking point with cryptocurrency. Last year the collapse of crypto platform Celcius showed investors they should always read the small print on the terms and conditions governing their accounts. While there is zero suggestion of fraud in that case, investors should be mindful that the question of "are my assets actually my own when I hand them over to a platform?" may continue to rock the crypto world for some time. The FTX case is hardly likely to bolster consumer confidence in the sector.
Conflicts of Interest
Conflicts of interest are inevitable in business, so the way they are managed is a key part of any board's responsibilities. There are several that could have contributed to FTX's implosion. Was it ever appropriate that Bankman-Fried was so closely involved in two companies with skin in very similar games? And, as regards his relationships with his colleagues, was he ever compromised in a way that prevented him from acting responsibly?
On that, the trial will probably focus on his romantic involvement with Caroline Ellison, Alameda Research's co-chief executive, and the impact that may have had on the way both FTX and Alameda Research were run. For Bankman-Fried's part, he has acknowledged conflicts of interest existed. At a New York Times event last year he said: "a lot of what we ended up doing and focusing on was a distraction from one unbelievably important area that we completely failed on: that was risk. That was risk management, customer position risk, and frankly, conflict of interest risk."
Key Man Risk
But there's one type of risk Bankman-Fried didn't mention. Key man risk occurs when an organisation becomes too dependent on the work of individuals. Such people may be financially central to an organisation, or they may provide the bulk of its ideas.
In this case, prosecutors are dealing with an individual whose reputation preceded him: Bankman-Fried was regarded as the figurehead of anti-establishment crypto investing, and his clout went far beyond FTX's walls. No business can survive on just hype though, so the extent of FTX's dependency on Bankman-Fried's reputation – as opposed to solid governance protocols – is likely to be a central part of the trial.
Political Donations
The relationship between politics and business has always been fraught, but the FTX case makes for one hell of a case study. According to Time, Bankman-Fried quickly became one of the largest political donors in US history, and gave more than $70 million to political campaigns within the space of about 18 months. And according to OpenSecrets, the not-for-profit formed of a merger of the Center for Responsive Politics and The National Institute on Money in Politics, Bankman-Fried's political donations made him the second biggest Democrat donor of all time, behind George Soros.
For their part, The Democrats weren't the only recipients of campaign money (Bankman-Fried highlighted his Republican primary donations in a tweet on 5 November) but there's no doubt the trial could make for very uncomfortable viewing for the Democrat Party and its White House incumbent President.