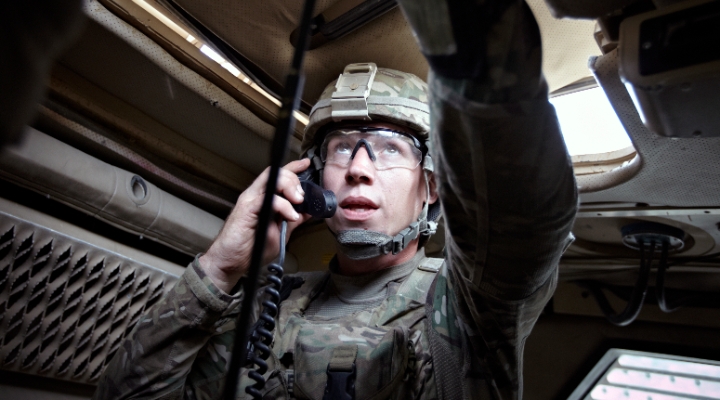 After a strong finish in 2022, the aerospace and defense stock industries maintained momentum through the first half of 2023. Amid a recent dip in performance for aerospace and defense stocks, high-quality names are trading at significant discounts.
The Morningstar US Aerospace & Defense Index – which measures the stock performance of companies that build and support aerospace and defense products – fell 5.6% in 2023 through September 12, while the Morningstar US Market Index rose 17.9%. Over the past 12 months through September 12, aerospace and defensive companies are up 4.7% while the broader market gained 11.4%.
What Are Aerospace and Defense Stocks?
The aerospace and defense industry is made of industrials companies that manufacture aerospace and defense products, including aircraft and aircraft parts, tanks, guided missiles, space vehicles, ships and marine equipment, and other aerospace and defense components and systems, as well as companies supporting these products through repair and maintenance services.
Notable firms within the Morningstar Aerospace and Defense Index include Boeing [BA], and General Dynamics [GD].
High-Quality Undervalued Stocks
For this screen, we looked for the most undervalued stocks in the Aerospace & Defense Index with a Morningstar Rating of 4 or 5 stars. Next, we filtered that list for stocks that have also earned a Morningstar Economic Moat Rating of wide or narrow, meaning they have durable competitive advantages that are expected to last at least 10 to 20 years. Stocks with moats and low valuations historically tend to outperform over the long term. As of September 12, 2023, two stocks met this criteria.
Here are the two undervalued aerospace and defensive stocks that made our list: RTX [RTX], and L3Harris Technologies [LHX].
RTX is trading at a 31% discount to its analyst-assessed fair value estimate while L3Harris Technologies is trading at a 26% discount.
Fair Value Estimate: $112.00
"RTX is a diversified aerospace and defense industrial company formed from the merger of United Technologies and Raytheon, with roughly equal exposure as a supplier to commercial aerospace manufacturers and to the defense market. The company operates in three segments: Collins Aerospace, a diversified aerospace supplier; Pratt & Whitney, an aircraft engine manufacturer; and Raytheon, a defense prime contractor providing a mix of missiles, missile defense systems, sensors, hardware, and communications technology to the military.
"In commercial aerospace, Collins is one of the largest aircraft component and systems suppliers. We think its substantial scale gives it negotiating leverage with aircraft manufacturers, as it provides many systems and can selectively bid on critical components. Meanwhile, Pratt & Whitney is in the early innings of a long ramp-up of delivering thousands of jet engines, which power some of the popular Airbus A320neo and all A220 aircraft. Pratt continues to service older V2500 engines that power many A320s in service today. We see long-term tailwinds for the GTF as we believe the A320 family will be the dominant narrow-body aircraft of this generation.
"In defense, Raytheon provides missiles, missile defense systems, sensors, and secure communications almost exclusively to government agencies. We expect the military's increased focus on modernizing its capabilities to drive material investment in each of these areas. We expect a flattening, rather than declining, budgetary environment as heightened geopolitical tensions are likely to buoy spending despite the potential debt burden. For these reasons, in addition to existing backlogs, we think Raytheon's businesses can continue growing despite a potentially slower overall macro environment."
Nicolas Owens, equity analyst, Morningstar
L3Harris Technologies [LHX]
Fair Value Estimate: $227.00
"L3Harris Technologies provides products for the command, control, communications, computers, intelligence, surveillance, and reconnaissance, or C4ISR, market. The firm produces uncrewed aerial vehicles, sensors, and avionics, as well as provides military and commercial training services and maintains the Federal Aviation Administration's communications infrastructure. In July 2023, the company acquired Aerojet Rocketdyne, a key supplier of rocket motors to the space and defense industry.
"L3Harris Technologies is the sixth-largest US defense contractor by sales (13th globally, according to the Stockholm International Peace Research Institute). It formed in 2019 from the merger of L-3 Technologies, a sensor maker that operated a decentralised business focused on inorganic growth, and the Harris Corporation, a sensor and radio manufacturer that ran a more unified business. Underpinning the merger was an assumption that additional scale would primarily generate cost synergies and eventually, the firms could produce meaningful revenue synergies.
"With the recent addition of ViaSat's tactical data link business and most recently the acquisition of Aerojet Rocketdyne, L3Harris has opportunistically vaulted its strategy forward into becoming a more well-rounded defense prime contractor, adding munitions, space exploration, and hypersonic missile components and capabilities to its very radio- and communications-heavy base."
Nicolas Owens, equity analyst, Morningstar