Editor's note: This week's three-part coverage of our Canadian small-cap roundtable concludes today with the managers discussing selected holdings in the industrials and financial-services sectors.
Our panellists:
Scott Carscallen, vice-president and portfolio manager at Mackenzie Investments. A value manager, his responsibilities include Mackenzie Canadian Small Cap Value and Mackenzie Canadian Small Cap Value Class.
Stephen Arpin, vice-president and portfolio manager, Beutel Goodman & Co. A value manager, his responsibilities include Beutel Goodman Small Cap.
Michael Chan, vice-president and senior portfolio manager, Fiera Capital Corp. A growth manager, his responsibilities include Fiera Capital Equity Growth.
The roundtable, which began on Monday and continued on Wednesday, was convened and led by Morningstar contributor Sonita Horvitch.
---
Q: Let's continue the discussion of the opportunities among the micro-cap stocks.
Carscallen: In addition to CRH Medical Corp. (CRH), which we have discussed, I have some other names in the portfolio, which were micro-caps when I bought into them. As I mentioned, they are some of my biggest winners. They include companies like Storage Vault Canada Inc. (SVI.P), Pollard Banknote Ltd. (PBL) and Savaria Corp. (SIS), which is an industrial company.
Chan: I own Storage Vault, which is a real-estate company.
Carscallen: It consolidates storage outlets.
Q: Returning to our discussion on individual sectors, industrials, which represented 12.9% of the S&P/TSX Small Cap Index at the end of March, is next on our list. Along with materials and energy, industrials put up a strong performance in the 12 months to the end of March and outperformed the small-cap index.
Arpin: Beutel Goodman Small Cap has 13% in this sector.
Carscallen: I have 20.5% in the industrial sector. It's the biggest sector weight in Mackenzie Canadian Small Cap Value. It's a broad category and offers good diversification. I have traditionally found the more interesting value opportunities in this sector. There is the potential for an increase in federal government spending on infrastructure on both sides of the border, and there are quite a few industrial names that stand to benefit from this, such as construction and engineering companies. Also, a number of industrial companies will benefit from an improving energy industry.
I've mentioned Savaria. This company provides a range of stair lifts, platform lifts and residential and commercial elevators. Savaria has good internal growth. It's also active in making acquisitions. The stock has had a nice run, but its valuation is still quite reasonable. There is more upside.
Chan: Fiera Capital Equity Growth has 19.7% in industrials. I also own Savaria. It's a North American leader in mobility solutions. It's a low-cost operation. There is large insider ownership and the company's return on invested capital is 20%. Our top three industrial holdings are Badger Daylighting Ltd. (BAD), Boyd Group Income Fund (BYD.UN) and Cargojet Inc. (CJT).
Arpin: I own Badger too.
Carscallen: So do I.
Chan: Badger is a strong growth company. It supplies excavation services and has a large percentage of its business in the United States.
Carscallen: Traditionally, Badger has had a high exposure to the energy sector, but it has been diversifying into non-energy areas. It has the mobility to move its equipment to where the demand is geographically. The stock has had a nice run, but it's still decently valued.
Arpin: Badger has a high return on capital. It's one of the innovators in its business. The company does its own manufacturing. It's vertically integrated and, as a result, its costs are better than competitors. There is some cyclicality to its business.
Chan: Boyd is one of the largest collision-repair companies in North America. The company has been acquiring small competitors and applying best practices to these small businesses. Boyd generates a return on invested capital of 25%. Importantly, the big insurance companies look for larger collision-repair companies to offer solutions to them.
Badger Daylighting Ltd.
Boyd Group Income Fund
Savaria Corp.

May 3 close

$31.96

$89.00

$15.10

52-week high/low

$36.22-$19.50

$92.75-$71.60

$15.49-$7.24

Market cap

$1.2 billion

$1.6 billion

$575.5 million

Total % return 1Y*

40.7

19.8

112.9

Total % return 3Y*

-4.8

31.2

60.3

Total % return 5Y*

29.6

50.0

24.0

*As of May 3
Source: Morningstar
Carscallen: Boyd is a well-run company. I also own the stock. It's not super cheap, but management is able to generate consistent and growing profits. The company produces strong free cash flow and high returns on invested capital. We're willing to continue to hold it, despite the slightly higher valuation. There is potential for further consolidation in the industry and Boyd itself could be a takeover target.
Chan: Cargojet has the largest network of planes that fly overnight parcels. It has a 95% market share of this business in Canada. The company has benefitted from winning Canada Post's business and the general growth in e-commerce.
 Amazon.com, Inc. (AMZN) is a good and growing customer. Cargojet is a consistent grower and highly profitable.
Carscallen: I also own Cargojet. There are high barriers to entry in its business. As it takes on additional business, there are increasing economies of scale. The valuation on the stock is attractive.
Chan: There is insider ownership.
Q: Let's turn to financials, with a weighting in the small-cap index of 5.6%.
Arpin: Beutel Goodman has 13.4% in the sector.
Chan: I have 7.9%.
Carscallen: I have 10.3%.
Arpin: We have been overweight financials for some time. We continue to like the valuations in names that we hold, such as Industrial Alliance Insurance and Financial Services Inc. (IAG), Equitable Group Inc. (EQB) and Canadian Western Bank (CWB).
Q: All three of you own Canadian Western Bank and Equitable.
Carscallen: Along with Steve, I also own Industrial Alliance.
Arpin: Equitable is a subprime lender to the Canadian housing market. It has an excellent track record and the valuation is attractive. The stock trades near book value and the return on equity is about 17%. There are questions about the sustainability of the kind of returns it has been generating. Investors are concerned about the Canadian housing market. Equitable is well managed. The more stringent regulatory environment is working to its advantage, as it's pushing higher-quality borrowers into the subprime market. There are also challenges at some of its competitors. We're comfortable with the stock.
Q: I take it you are referring to the challenges at Equitable's competitor, Home Capital Group Inc. (HCG).
Chan: There are generally concerns about the health of the Toronto housing market and house prices. But Toronto is a world-class city and its housing represents relatively good value compared to other major cities. Toronto is the fourth largest city in North America. Looking ahead, there will continue to be a substantial influx of people into the Greater Toronto Area.
Carscallen: There continues to be uncertainty about ongoing government policy on mortgages and the housing market. But Equitable's stock is cheap. Home Capital's issues are allowing Equitable to take some market share.
Arpin: On Canadian Western Bank, the stock is inexpensive relative to its history.
Carscallen: It's aggressively expanding into the Ontario market.
Chan: The return on its equity is not has high as it once was five or 10 years ago. The stock is inexpensive.
Arpin: We've held Industrial Alliance for a long time. Its business is primarily in Canada. The insurance market here has consolidated and it's a rational market. The company is well managed. It will benefit from rising interest rates.
Q: It is time to sum up the discussion and assess the outlook for the Canadian small-cap universe.
Chan: The outlook for 2017 is not as clear as it was a year ago. At that time, there were large anomalies in the pricing of the stocks of companies over an economic cycle, so it was easy to see the outliers. We're currently more focused on the sustainable-growth companies and are being highly selective within the resource and cyclical sectors.
Arpin: Valuations in the small-cap space are definitely higher than they were a year ago. There are not a lot of macro factors, such as the interest-rate environment or the economy, that are concerning. So there's room for valuations to continue to expand. But the return potential is likely to be lower than it was a year ago.
Carscallen: Last year was the year of a big sector call. If you called energy and you called gold and metals, your returns would have been very good. This year, it's more of a stock-selection exercise. As discussed, I'm looking at companies that have outsized opportunities for growth and have found some among the smaller small-caps in a number of sectors. Some of these stocks have had a strong run.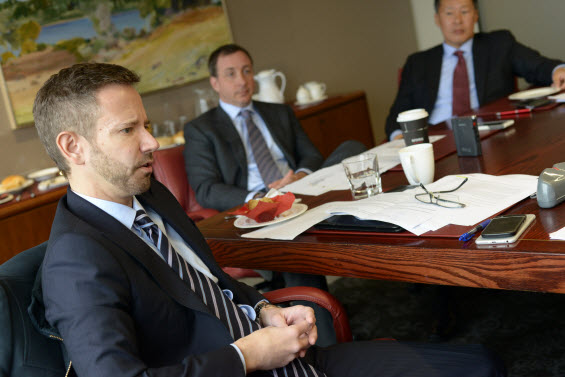 Photos: Paul Lawrence Photography