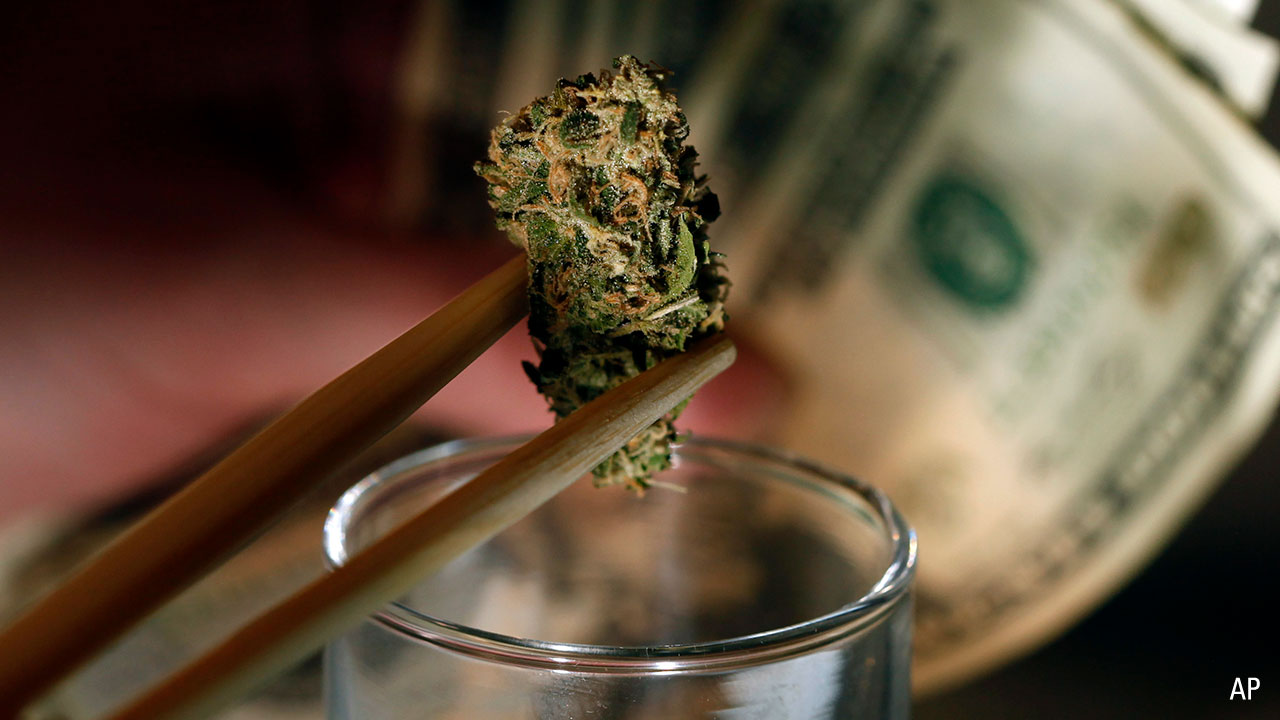 The high from cannabis may take a while to kick in but there are several companies worth adding to your watchlist that are trading at significant discounts to Morningstar fair value estimates.
Cannabis users are predominantly getting their fix from the flower itself. But in a decade or so, the way cannabis is consumed will change. Instead of smoking it, you'll be eating it, says Morningstar equity analyst Kristoffer Inton.
By 2030, the market for "edibles" and other concentrated forms of cannabis will grow in popularity as consumers adopt a healthier mode of consumption than smoking.
This has big implications for the industry," Inton says.
"First, we think black market consumers are much more likely to convert to the legal market for value added products. Safety and quality are much more observable in value added products, so legal markets' higher prices are more justifiable.
"Second, the move away from flower to value added goods creates the opportunity for consumer branding."
At present, the legal US market is estimated at more than US$10 billion ($14 billion). Inton estimates that by 2030, the US market will reach more than US$80 billion.
In the legal Canadian market, it's worth about US$2 billion but is tipped to reach more than US$14 billion.
In Canada, medical cannabis has been legal since the early 2000s, and recreational cannabis was legalised in 2018. In the US, 11 states have legalised recreational cannabis and 33 additional states have legalised medical cannabis.
What's Your High?
And what's the difference between medical and recreational?
"Nationally, cannabis with high levels of THC, the cannabinoid that creates the euphoric high, remains illegal," Inton says. "However, low-level THC, high-level CBD is legal nationally. CBD doesn't create euphoria but is anecdotally known to provide various pain and relaxation benefits.
"Obviously, there's a bit of legal disconnect between state and national laws in the US, but the federal government has chosen a policy of nonenforcement for states that have strong regulatory frameworks."
Changing Attitudes and Consumption
Inton cites a few key reasons for a change in attitudes, and ultimately consumption.
First, more states will move to legalise THC cannabis, particularly in the America's northeast. "The coronavirus pandemic likely accelerates this trend as states look for new tax dollars to plug budget gaps," Inton says.
Second, more regulation will mean better safety, which Inton thinks will lure more black market users into the legal market.
"There's been some friction here in the early stages as legal market prices tend to be higher. We think value and safety will eventually bring users into the regulated legal market. An example of this is the vaping crisis last year, as investigation suggested that much of the cases came from black market THC vapes."
Finally, legalising cannabis will encourage previous law-abiding non-users to give it a go.
"Many of the US multistate operators cite these consumers as some of the most important target markets. By 2030, we forecast a change to US federal law. Rather than national legal legalisation like we saw in Canada, we think the US will pass a state's rights form of bill, basically allowing each state to decide cannabis' legality within its borders. This is somewhat similar to how fireworks are regulated. For example, if you cross the border to Indiana, you could purchase fireworks legally, but you can't bring them back over into Illinois."
7 Stocks to Watch
So, which are the names to put on your watchlist?
Inton has seven names to keep in mind. Five are undervalued. None carries a moat – or ten-year competitive advantage. And all carry very high to extreme uncertainty ratings, which reflect the early state of the cannabis industry.
"Curaleaf and Green Thumb Industries are the only US producers we cover. We think the US market is going to be the biggest and most attractive. And these companies have already reached EBITDA profitability. If you're playing the US market, we recommend these two stocks.
"The other five companies we cover are Canadian, and due to US federal prohibition, they can't operate in THC cannabis in the US. We see Aphria as the most undervalued cannabis company we cover. Compared to other Canadian companies, it's been a lot more deliberate and careful about expanding, which has led it to be the first Canadian company to reach EBITDA profitability. Additionally, Aphria is particularly focused on the higher priced international medical export market, adding to its attractiveness.
"We also think Aurora is undervalued, but note our extreme Uncertainty Rating for the company. The company has had to rely on dilutive equity raises to fund its cash burn, but we think it's making solid progress on stemming cash burn while maintaining its low production costs.
"We think Canopy Growth is undervalued. Canopy has a financial backing of giant alcohol producer, Constellation Brands, reducing the financial risk we see in many other companies. It's very focused on becoming the consumer-branded company of the cannabis industry.
We see Cronos and Tilray as fairly valued. Cronos is very focused on the US CBD market, which we see riddled with competition. Tilray wants to become the consumer-branded company of cannabis, like Canopy, but the lack of a major financial backer and heavy cash burn weigh on our outlook for the company.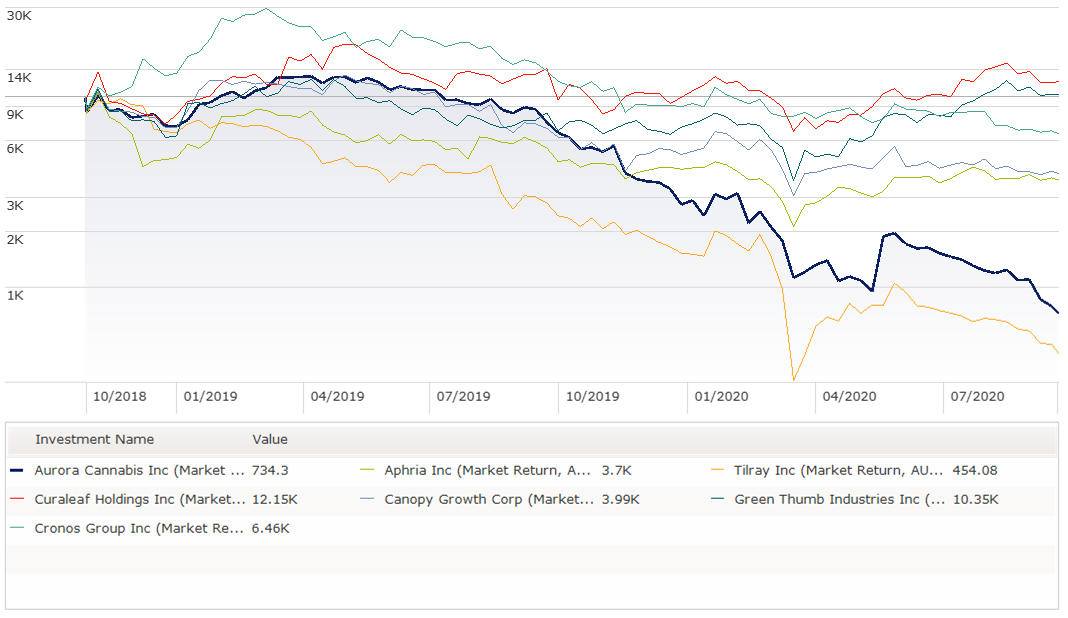 Source: Morningstar Direct; data as of 22 September 2020
Here's Inton's snapshot of each company:
Curaleaf (CURA)
Curaleaf is headquartered in Wakefield, Massachusetts, and cultivates and sells medicinal and recreational cannabis in the US. The company has operations in 23 states, including the assets from the Cura Select and Grassroots acquisitions. Curaleaf offers multiple products under three brands: Curaleaf, Curaleaf Hemp, and UKU Craft Cannabis. The company does not currently export into the global medical market as Canadian cannabis producers typically do.
Green Thumb Industries (GTII)
Green Thumb Industries is headquartered in Chicago, Illinois, and produces and sells medicinal and recreational cannabis through wholesale and retail channels in the United States. It has a presence in 12 states and operates nearly 50 cannabis stores under the chains Rise and Essence. GTI is focusing its expansion on limited license states with large populations, and it does not currently export into the global medical market due to US federal prohibition. It offers multiple products under a portfolio of cannabis consumer packaged goods brands, including Dr. Solomon's, Dogwalkers, and Beboe.
Aphria (APHA)
Aphria, which is headquartered in Ontario, produces and sells medicinal and recreational cannabis. The company operates through retail and wholesale channels in Canada and internationally. Aphria is a main distributor of medical cannabis to Germany and has operations in over 10 countries outside of Canada. However, it does not currently operate in the US due to federal prohibition. The company is focusing on expanding through international cultivation and distribution into the global medical cannabis market. Aphria also offers multiple products under a portfolio of recreational cannabis brands, including Solei, RIFF, and Broken Coast.
Aurora Cannabis (ACB)
Aurora Cannabis, headquartered in Edmonton, Canada, cultivates and sells medicinal and recreational cannabis through a portfolio of brands that include Aurora, CanniMed, Daily Special, MedReleaf, and San Rafael '71. Although the company primarily operates in Canada, Aurora has expanded internationally through medical cannabis exporting agreements or cultivation facilities in more than 25 countries.
Canopy Growth (WEED)
Canopy Growth, headquartered in Smiths Falls, Canada, cultivates and sells medicinal and recreational cannabis, and hemp, through a portfolio of brands that include Tweed, Spectrum Therapeutics, and CraftGrow. Although it primarily operates in Canada, Canopy has distribution and production licenses in more than a dozen countries to drive expansion in global medical cannabis and also holds an option to acquire Acreage Holdings upon US federal cannabis legalisation.
Cronos Group (CRON)
Cronos Group, headquartered in Toronto, Canada cultivates and sells medicinal and recreational cannabis through its medicinal brand, Peace Naturals, and its two recreational brands, Cove and Spinach. Although it primarily operates in Canada, Cronos exports medical cannabis to Poland and Germany. In addition, it has entered joint ventures in Israel, Colombia, and Australia to drive further international cultivation and distribution growth and acquired Redwood Holdings to sell CBD in the US.
Tilray (TLRY)
Tilray, headquartered in Nanaimo, Canada, cultivates and sells medical and recreational cannabis through a portfolio of brands that include Canaca, Dubon, and Manitoba Harvest. The bulk of Tilray's sales are in Canada, but the company also sells CBD Products in the US and exports medical cannabis globally from its production facilities in Canada and Portugal. Tilray also has a joint venture partnership with AB InBev to develop cannabis-infused drinks.