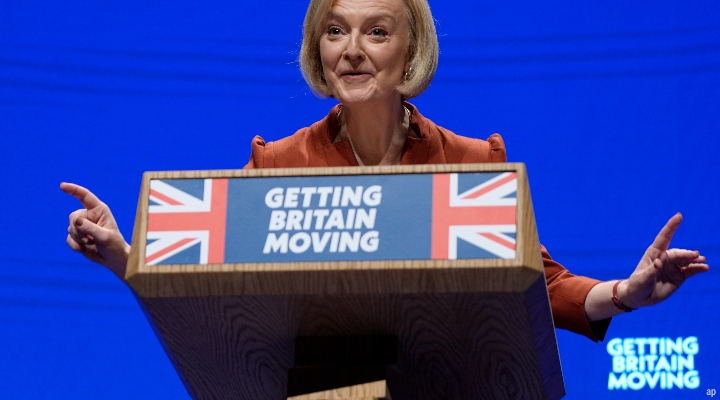 The UK Prime Minister Liz Truss has performed a dramatic sacking, ousting chancellor (the Minister of Finance) Kwasi Kwarteng after just 37 days. Instead of rallying on the news, the pound has actually dropped against the US dollar and is now trading at $1.12.
Truss is now set to give a press conference at Downing Street, where it thought she may also signal an embarassing U-turn on her tax plans.
In a gushing resignation letter to the prime minister, Kwarteng said:
"You have asked me to stand aside as your chancellor. I have accepted.
"When you asked me to serve as your chancellor, I did so in full knowledge that the situation we faced was incredibly difficult, with rising interest rates and global energy prices.
"However, your vision of optimism, growth, and change, was right.
"As I have said many times in the past weeks, following the status quo was simply not an option. For too long this country has been dogged by low growth rates and high taxation - that must still change if this country is to succeed.
"The economic environment has changed rapidly since we set out the Growth Plan on 23 September. In response, together with the Bank of England and excellent officials at the Treasury we have responded to those events, and I commend my officials for their dedication
"It is now important as we move forward to emphasise your government's commitment to fiscal discipline. The medium-term plan is crucial to this end, and I look forward to supporting you and my successor to achieve that from the backbenches."
During her various pitches to be leader of the Conservative Party, Liz Truss had attempted to differentiate herself from rival Rishi Sunak by proposing the largest set of tax cuts in half a century. Among them, a pledge to abandon a planned rise in corporation tax, and increases to National Insurance.
Abandoning the headline-grabbing plan would represent a major climbdown for Truss, who has struggled to convince just about everyone she is leading a government that respects the rules of fiscal discipline.
Indeed, the last three weeks has witnessed a heady and hazy start to the prime minister's tenure at Downing Street, as the consequences of the so-called "Mini-Budget" fed into the markets, amid shock, dismay, and unprecedented concern among Tory grandees.
While certain government ministers have attempted to reassure investors and voters that the chaos in the gilt and mortgage markets was a result of factors outside the government control, senior Tory MPs, and investors themselves, just haven't bought the attempt at gaslighting.
In the last 48 hours alone, Liz Truss's credibility has been called repeatedly into question by her parliamentary colleagues, amid what some media outlets have described as the early stages of an attempted coup against the prime minister.
Meanwhile, prominent commentators with insider knowledge of the Westminster circus are already signalling the end of the Truss era, barely a month after she entered Downing Street promising a return to economic growth and opportunities for all.