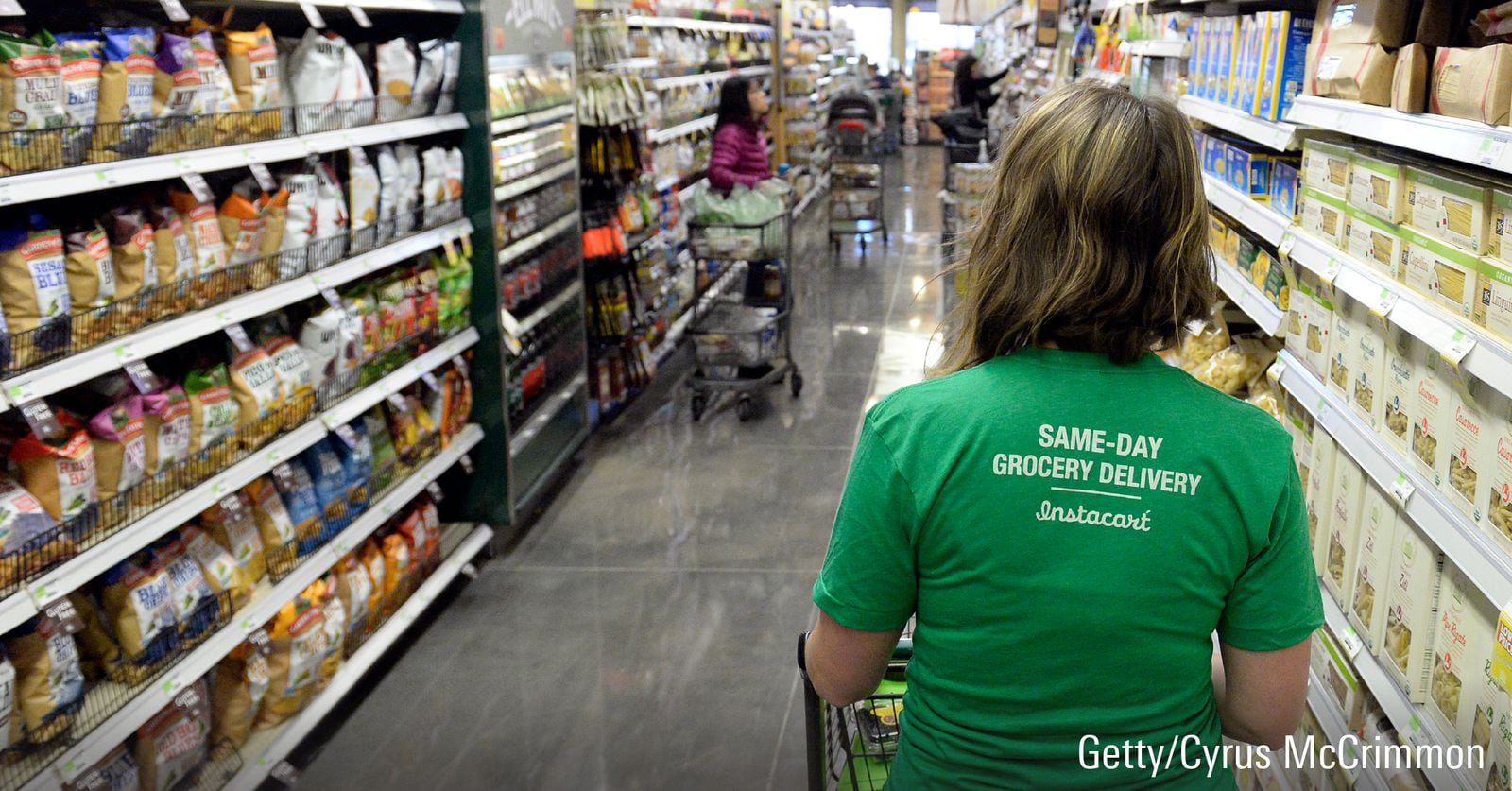 The market for IPOs is heating up, and that means Instacart CART stock was on investors' shopping lists.
Instacart announced Monday that it had priced its stock at US$30. When trading began Tuesday afternoon, its stock opened more than 30% higher, at one point approaching US$40 per share. By the end of the trading day, however, the stock gave back some of its first-day pop. Instacart stock finished its inaugural session at US$33.70 for a 12.3% gain.
This first-day pop comes after the IPO had already been priced at higher levels than originally expected. Last Monday the company announced a target share price range of US$26-$28, then bumped it up to US$28-$30 on Friday in the wake of British chipmaker Arm Holdings' ARM successful public listing.
Analysts say the grocery delivery app offers investors the chance to buy stock in a newly profitable company with considerable prospects for growth. However, they caution that the industry is highly competitive, and heading into share pricing on Monday evening, the company sought a higher price than it had just a week before.
Instacart stock began trading on the Nasdaq on Tuesday under the ticker symbol CART. The share offering was filed under Maplebear Inc., which was the company's name when it was originally incorporated.
The Instacart IPO's "Attractive" Profitability
Founded in 2012, Instacart sends shoppers to grocery stores on behalf of customers, who use a mobile app to order their groceries. The company also sells its technology to retailers to use for their own mobile storefronts and generates revenue from ads on its platform. A planned IPO was scrapped in 2022 amid high inflation and a rocky equities market.
Instacart generated US$2.6 billion in revenue and net income of US$428 million in the 2022 calendar year.
That profitability is "attractive for the market," says Ali Mogharabi, senior equity analyst at Morningstar, especially compared with peers like DoorDash DASH and Uber UBER. However, the company itself warns in its IPO filing documents that this profitability is new and could evaporate if it can't maintain revenue in the months to come.
Analysts point to Instacart's diversifying business model as a positive sign for growth down the road. Roughly 30% of revenue last year—some US$740 million—came from advertising. Instacart says that segment grew 29% between 2021 and 2022.
Instacart now has "all of this consumer shopping data that they're able to sell," says Alex Frederick, a senior analyst covering emerging technology at PitchBook, "which is really powerful and really attractive." Groceries are a relatively low-margin business, Frederick adds, while ads and software offerings command much higher profits.
Despite those lower margins, however, online grocery sales have remained strong after the peak of the COVID-19 pandemic. Over the long term, Frederick expects the market to grow. "Instacart is very well-positioned," he says.
Instacart Faces Competition
Investors should keep in mind that Instacart isn't the only player in the online grocery game. "Their service is not necessarily unique," Mogharabi says. He points to companies like Uber, DoorDash, and even Amazon.com AMZN, which has its own grocery delivery service. "There's a lot of competition out there, especially from very, very large companies." This competition could have prompted Instacart and its underwriters to pursue a slightly more conservative valuation, he adds.
High Rates Pressure Instacart's Valuation
With the stock pricing at the top end of its range, the company is valued at roughly US$10 billion. That is a significant decline from the US$39 billion price tag it acquired after its last private funding round in 2021. But analysts say this isn't too surprising, given the Federal Reserve's rapid interest-rate hikes over the past 18 months. Those higher rates are putting pressure on valuations across the board, Mogharabi says. That's especially true for growth companies like Instacart.
With the stock pricing at the top end of its range, it will trade at a multiple of roughly 3.9 times its 2022 revenue. That's above the valuation for Uber, which is trading at 2.8 times its revenue, and closer to DoorDash, which is trading at about 3.5 times its revenue. Mogharabi points out that both competitors traded at significantly higher multiples when they debuted.
Frederick adds that Instacart has lowered its valuation internally several times since 2021, and asset managers like T. Rowe Price and Fidelity have also devalued their shares of the firm over the past few years. "The main difference is just the current environment in the market," Mogharabi says.