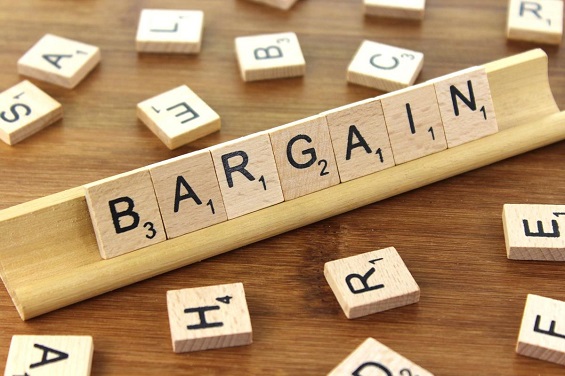 Everyone loves a good bargain, whether in gadgets, clothes or stocks. In keeping with that spirit, today we present some stock ideas that are trading at deep discounts -- in some cases, more than 40% lower than what our stock analysts think their fair value should be.
Six of those stocks are gold producers. Over the past year, gold has fallen 9% to around US$1,200 per ounce while the S&P/TSX Composite Index has added more than 9%, as of Sept. 14, 2018. We spoke about three of these gold companies in a recent article, which explained how they are likely to ride out the current weakness.
But today, we focus on three of the stocks on the list that are not in the gold industry. One of those is an elusive triple threat: wide moat, attractive yield, and cheap!
But first, here is the list of 10 stocks that we picked from our Morningstar Direct database that are trading at deep discounts to our fair value estimates.
Name
Ticker
Industry
Price/FV
Moat

Eldorado Gold Corp.

ELD

Gold

0.45

None

Cenovus Energy Inc

CVE

Oil & Gas Integrated

0.54

None

Cameco Corp

CCO

Industrials Metals & Minerals

0.57

Narrow

Iamgold Corp

IMG

Gold

0.59

None

Goldcorp Inc

G

Gold

0.64

None

Enbridge Inc

ENB

Oil & Gas Midstream

0.70

Wide

CI Financial Corp

CIX

Asset Management

0.72

Narrow

Agnico Eagle Mines Ltd

AEM

Gold

0.75

None

Barrick Gold Corp

ABX

Gold

0.77

None

Kinross Gold Corp

K

Gold

0.79

None

Data as of 9/18/2018. Source: Morningstar Direct
Here's a closer look at three stocks from the list.
 Cameco Corp. (CCO)
Discount to Fair Value Estimate: 43%
Economic Moat: Narrow
Four-star rated Cameco is one of the world's largest uranium producers and miners, and also operates uranium conversion and fabrication facilities. In July this year, the U.S. Department of Commerce initiated a probe into uranium imports, after which Cameco announced that due to market weakness, it would continue the shutdown of its McArthur River and Key Lake uranium mines in Saskatchewan until uranium prices improve, and would increase its purchases from the market to meet its delivery contracts.
By doing so, Cameco is continuing to do what it can to help avoid extending price weakness, noted Morningstar equity analyst Kristoffer Inton. "Although this is likely to eat into margins in the near term, we believe it's the right move for the company's long-term profitability," he said, adding that the longer-term outlook is unchanged, as China's expanding nuclear fleet will be the driving force behind significant growth in uranium demand.
Inton believes the market is mispricing the uranium miner. "Uranium offers a rare growth opportunity in metals and mining. China's structural slowdown portends the end of a decade-long boom for most commodities--but not for uranium," he argues.
Morningstar assigns Cameco a narrow economic moat, thanks to its cost advantages and an expected improvement in contract prices.
 Enbridge Inc. (ENB)
Discount to Fair Value Estimate: 30.6%
Economic Moat: Wide
Four-star rated Enbridge is an energy generation, distribution and transportation company operating in Canada and the United States. Its pipeline network consists of the Canadian Mainline system, regional oil sands pipelines and natural gas pipelines. The company also owns and operates Canada's largest natural gas distribution company.
At the end of August this year, Enbridge reached an agreement with the native Anishinaabe Fond du Lac Band of Lake Superior Chippewa to build the Line 3 replacement oil pipeline through the band's reservation in Northeast Minnesota. The agreement gives Enbridge easements for six existing oil pipelines through 2039. The tribe also agreed to not participate in any opposition to the project despite being one of its most prominent critics. Line 3 carries Canadian crude from Alberta to Wisconsin.
One of Line 3's competing pipelines, the Trans Mountain Expansion (TMX), isn't faring as well. Canada's Federal Court of Appeal overturned the government's approval of the pipeline, claiming the government didn't properly consider the interests of aboriginal groups and that the National Energy Board's review was incomplete.
The TMX's delay bodes well for Enbridge, says equity analyst Joe Gemino. "We still consider Enbridge a rare triple threat, boasting a wide moat, an attractive 5.8% dividend yield and a cheap valuation," he noted.
 CI Financial Corp. (CIX)
Discount to Fair Value Estimate: 27%
Economic Moat: Narrow
Four-star rated CI Financial is a diversified provider of wealth management products and services, primarily in the Canadian market. The company had $138.6 billion in assets under management, and another $44.2 billion in assets under advisement, at the end of July 2018, making it the second-largest non-bank-affiliated asset manager in Canada.
"We believe CI Financial has a valuable long-term track record of above-average investment performance that should serve it well as the non-bank-affiliated Canadian asset managers come under greater competitive pressures during the next decade," said sector strategist Greggory Warren. "Third-party distributors control most of the distribution in Canada, and CI Financial's long track record of solid fund performance had allowed it to consistently generate positive annual organic growth for some time, even as its peers struggled with net outflows."
Morningstar assigns CI Financial a narrow economic moat, derived from both switching costs and intangible assets.